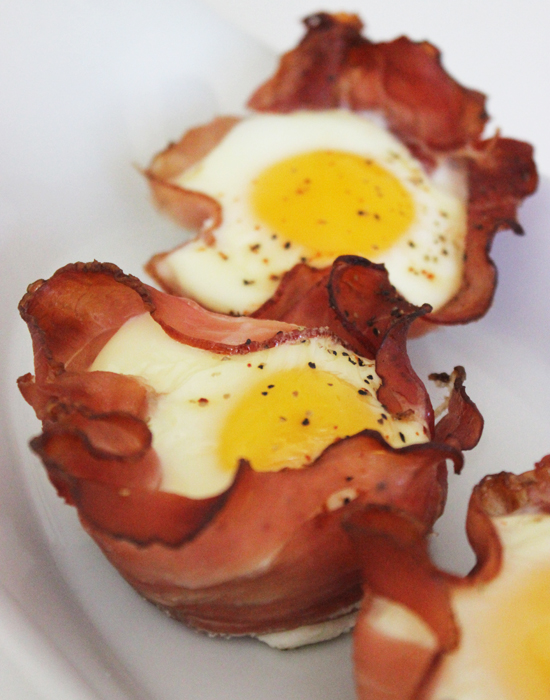 http://www.popsugar.com/fitness/Baked-Eggs-Ham-Cups-21616192
INGREDIENTS
12 slices of ham (free of preservatives)
12 eggs
Salt, pepper, and paprika
DIRECTIONS
Preheat oven to 375ºF.
Line a muffin tin with slices of ham. Crack an egg into each muffin spot, and season with salt, pepper, and paprika. Bake for 20 minutes.
Allow to cool for two to three minutes, remove slowly from muffin tin, and enjoy!
1. Place one egg in each slot of a muffin tin
2. Bake at 325 for 30 mins
3. Immediately drop them into an ice bath
Voìla Perfect eggs!
A low carb and gluten free breakfast casserole recipe that is hearty and easy to make!
Serves: 18 muffins or 12 squares
INGREDIENTS
10 oz pkg of frozen chopped spinach, thawed and drained
½ cup crumbled feta cheese
12 eggs
½ cup heavy cream
½ cup unsweetened plain almond milk
½ tsp salt
¼ tsp black pepper
¼ tsp ground nutmeg
INSTRUCTIONS
Break up the raw sausage into small pieces and place it in a medium bowl. Squeeze any remaining liquid out of the spinach, and break it up into the same bowl as the sausage. Sprinkle the feta cheese over the mixture and toss lightly until combined. Lightly spread the mixture onto the bottom of a greased 13×9 casserole dish or 18 greased muffin cups.
Meanwhile, in a large bowl beat the eggs, cream, almond milk, salt, pepper, and nutmeg together until fully combined. Gently pour into the pan or muffin cups until about ¾ the way full.
Bake at 375 degrees (F) for 50 minutes (for the casserole) or (30 minutes) for the muffin cups – or until fully set. Serve warm or at room temperature.
NOTES
Approximate nutrition information per serving:
Per muffin: 137 calories, 10g fat, 1g net carbs, 8g protein
Per square: 206 calories, 16g fat, 1.4g net carbs, 12g protein
NUTRITION INFORMATION
Serving size: 1 muffin or square serving
Crock Pot Cheesy Chicken, Bacon, & Tator Tots is a delicious and super easy meal to put together! Your whole family will love it!
Author: Stacey
Recipe type: main
Ingredients
1 (32 ounce) bag tater tots
3 ounce crumbled bacon pieces
1 lb skinless chicken breasts
1½ cups grated colby cheese
1½ cups grated monterey jack pepper cheese
¾ cup milk
salt and pepper
Instructions
Grease the bottom of the crock pot
Layer ½ the tater tots on the bottom of the pot
Sprinkle ½ of the bacon pieces on top of the tator tots
Combine the two cheeses, and sprinkle ⅓ of it over the bacon and tots
Top cheese with the chicken breasts
Sprinkle chicken with salt and pepper to taste
Top chicken with another ⅓ of cheese
Sprinkle with other ½ of the bacon pieces
Add remainder of the tater tots
Top with final ⅓ of the cheese
Pour milk over the top
Set crock pot to high and cook 4-5 hours (3 was perfect for me)
1 medium to large head cabbage
2 large carrots, or a couple handfuls of baby carrots
Dressing
1 cup mayonnaise
2 tbsp white vinegar
2 tbsp granulated sugar
1/2 tsp salt
1/2 tsp black pepper
1. Chop cabbage
2. Grate carrots, or chop in Ninja chopper
3. Mix dressing ingredients
4. Add to cabbage and carrots
5. Chill in fridge for at least one hour
http://www.chowhound.com/recipes/easy-slow-cooker-pulled-pork-30356
INGREDIENTS (10)
2 medium yellow onions, thinly sliced4 medium garlic cloves, thinly sliced1 cup chicken stock or low-sodium chicken broth1 tablespoon packed dark brown sugar1 tablespoon chili powder1 tablespoon kosher salt, plus more as needed1/2 teaspoon ground cumin1/4 teaspoon ground cinnamon1 (4-1/2- to 5-pound) boneless or bone-in pork shoulder (also known as pork butt), twine or netting removed
1 c dried apples (chopped)
1 c dried apricots (chopped)
1 c dried cranberries
1 c canned prunes(chopped)
1 c raisins
1/2 c walnuts (chopped)
1/2 c butter (1 stick)
1/2 c honey
1/2 tsp salt
1/2 tsp allspice
1 tsp cinnamon
1/4 tsp ground cloves
1 tsp vanilla
5 c graham crackers
(It's recommended to use rubber gloves to mix thoroughly)
– Mix dried fruit & prunes
– Add spices to fruit mixture
– In separate bowl mix butter & honey, then add to fruit & spices mixture
– Add graham crackers & mix well
– Pack into foil lined loaf pan